Sight-Rite Field Sports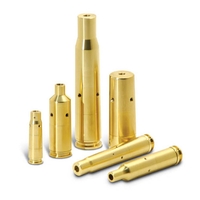 Sight-Rite Laser Bore Sight. Get meticulous accuracy with the most exacting tolerance specifications in the sighting industry. From the very smallest to the largest 12 gauge casing, these precision machined calibre specific sighters deliver unparalleled results every single time....
(more)
Sight-Rite Basic End of Muzzle Laser Bore Sight. This versatile system will work on everything form .17 to .50 calibre. Comes with an alignment target and durable storage pouch....
(more)
RRP

£78.00
£59.99
Temp. Unavailable - Email me
Sight-Rite Deluxe End of Muzzle Laser Bore Sighter. Makes sighting your firearm easier than ever! Sight-Rite Deluxe Muzzle Laser Bore Sight from SSI will work on everything from .17 to .50 calibur. Fully compatible with 10, 12 and 20 gauge shotgun, this SSI Bore Sight is unlike any other bore sighting product in the market....
(more)
RRP

£117.50
£89.99
Temp. Unavailable - Email me