Scarves & Neck Warmers
Beretta Fleece Neck Warmer. Light and breathable neckwarmer fleece made of a soft and warm microfiber fabric. The low thermal dispersion of microfibers and the thickness of the fabric create a dead-air cushion around the body that keeps the wearer warm even in very cold conditions....
(more)
RRP

£18.95
£16.99
Out of stock - Email me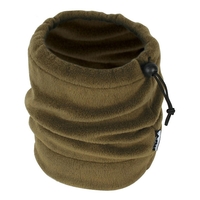 Save £5
Quality made thermal fleece neck gaiter. Pull it down over your head and around your neck and pull the draw-cord to keep the draughts out. It can also be used as a warm hat by pulling the draw-cord in completely closing off one end. Quality made soft fleece material, quick drying, draw cord/elastic with button lock, one size fits all, lightweight and compact (will fit in coat pocket when not in use) and can be used as scarf or hat....
(more)
(4)
RRP

£9.99
£4.99
In stock
Purchase Options
Harkila All Season Tube. Made from 100% Merino Wool....
(more)
(3)
£32.99
In stock
Purchase Options