DVDs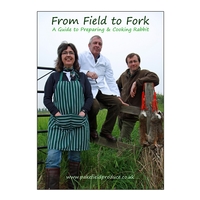 A visual guide to preparing and cooking rabbit. Presenting this easy to follow guide are Simon Whitehead, Marie Taylor and Steve Taylor....
(more)
Save £9
Enjoy the beautiful scenery and exciting stalks of all Britain's five Deer species; the mighty Red Stag, the beautiful Fallow Deer, the shy Sika Stag, the nimble Roebuck and the swift Barking Deer. This video is a must for any rifle hunter for the game fields of England....
(more)
Save £9
Outdoor Edge Quarter and De-bone Big game in the Field: Vol.2 This video is for the do-it-yourself big game hunter that harvests deer, elk, moose, and caribou in remote locations. Learn to completely de-bone big game in the field and minimize carry weight. Run time: 2 hours....
(more)