Extenders
Extenders are designed to increase the magnification of your optics when used in conjunction with the original eyepiece. Browse extenders from Kowa, Leica, Swarovski and more.
Kowa TSN-EX16 1.6x Extender. The Kowa TSN-EX16 increases the magnification of the current Kowa TSN-880/770 spotting scopes by 1.6x when combined with the original eye-piece....
(more)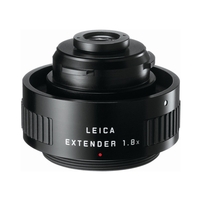 Leica 1.8x Extender For APO Televid Angled Spotting Scopes. When you don't want to miss any of nature's fascinating details, you need to get closer. That is why Leica has developed the Extender 1.8x for Leica APO-Televid spotting scopes (angled viewing). In combination with the Leica Eyepiece, it allows 45- up to 90-fold magnification....
(more)

(1)
RRP

£325.00
£299.00
In stock
Purchase Options
Swarovski ME 1.7x Magnification Extender for BTX/ATX/STX. The ME 1.7x magnification extender increases the magnification by a factor of 1.7. You can quickly and easily attach it using the bayonet catch to all the objective and eyepiece modules in the ATX/STX/BTX family. In the case of the BTX 65 and 85, the magnification increases from 30x to 50x, and from 35x to 60x for the BTX 95....
(more)