Nightvision Binoculars
Smart Digital Binoculars with Full HD Camera - combining state of the art optics and computer processing!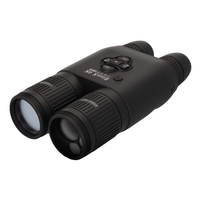 ATN BinoX 4K 4-16x Smart Ultra HD Day/Night Digital Binocular w/WiFi and Laser Rangefinder. Scout out what's for supper at any hour on the clock when looking through this ATN BinoX 4K 4-16x65 Smart Day/Night Binocular w/Laser Rangefinder. What makes these Binoculars so smart? Well, ATN designed them with Ballistic Information Exchange (BIX) technology that allows them to communicate with other smart devices. It all starts by using the integrated laser rangefinder to find the exact distance to yo...
(more)
New
Wulf Full HD NV Binoculars. The WULF Full HD Night Vision Binoculars has been designed to allow you to observe your surroundings in low light conditions or in complete darkness....
(more)
(2)
RRP

£249.95
£239.99
In stock
Purchase Options