Nightvision Binoculars
Smart Digital Binoculars with Full HD Camera - combining state of the art optics and computer processing!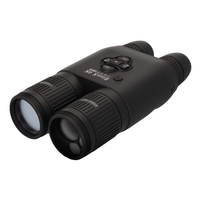 ATN BinoX 4K Smart Ultra HD Day/Night Digital Binocular w/WiFi and Laser Rangefinder. Scout out what's for supper at any hour on the clock when looking through this ATN BinoX 4K 4-16x65 Smart Day/Night Binocular w/Laser Rangefinder. What makes these Binoculars so smart? Well, ATN designed them with Ballistic Information Exchange (BIX) technology that allows them to communicate with other smart devices. It all starts by using the integrated laser rangefinder to find the exact distance to your tar...
(more)
New
An excellent value entry level night vision spotter. These feature a single front lens and IR illuminator on the front and a single large screen inside the unit that you look through with both eyes. The 400m model has a 3.5x magnification and a 4x digital zoom. Video and images can be captured and can be played back on the device. 8GB memory card included. 2 yr warranty....
(more)
RRP

£222.95
£199.99
Out of stock - Email me
Like all other Yukon night vision binoculars, the Tracker 3x42 features compact dimensions and light weight. Ergonomic, rough body of shock-proof polymer with the soft coating allow the user to hold them comfortably....
(more)