Pulsar Nightvision Binoculars
Specially designed to provide the highest edge-to-edge resolution performance ever seen in cost-conscious consumer night vision products!
Pulsar Edge GS 3.5x50 L CF Super Nightvision Binoculars. The Edge L range of Gen Super/CF-Super image intensifier tubes which provide edge-to-edge resolution performance, offering a 20% increase in resolution over Gen 1 tubes....
(more)
(2)
RRP

£659.95
£579.99
In stock
Purchase Options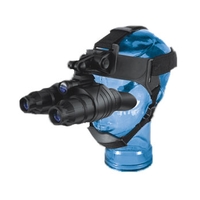 Pulsar Edge GS Night Vision Binoculars 1x20 75095 is a versatile long-distance Night Vision device from Pulsar, made for long-range viewing. The Pulsar Edge GS Nightvision Binoculars give you the best edge-to-edge resolution ever seen in a consumer-budget nightvision product....
(more)
(1)
RRP

£579.95
£529.99
Order Now - 7-10 Days
Purchase Options