Pike Rods
These kits are assembled and ready to be used straight out of the rod case. Just add a fly of your choice and attach it to the leader and start fishing.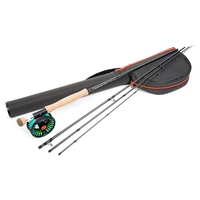 Save £75
Guideline Epik Pike Fly Fishing Kit - 9ft - #9. Guideline flyfishing kits have been updated with a totally new range of rods called Kaitum, Epik and Laxá. They whole series have new actions, new look and improved performance across the board....
(more)
Elevation 9ft #4-5-6: The 4 and 5 wt are typical all-round trout rods for dries, nymphs and lighter streamers. The 6wt is the choice for bigger flies, bigger fish and more windy conditions. Elevation 9ft #7-8-9: Typical rods for the heavier fishing after migratory trout, pike, salmon, seatrout and bonefish. These rods suit rivers, lakes, coastal and flats fishing where big fish and demeaning conditions are common. Unique balance and wt for rods in this category.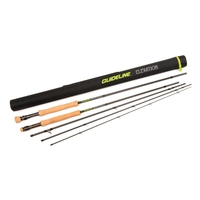 Guideline 4 Piece Elevation Fly Rod - 9ft. The Elevation series is a super light and smooth medium fast action range of rods. Designed for anglers at all levels. Utilising sustainable production and eco friendly components....
(more)
Pike spinning rod - good for casting crankbaits and softbaits for species like pike, zander and perch.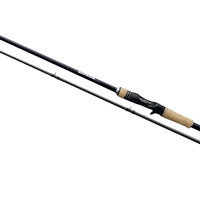 Save £85
Shimano 2 Piece Expride Casting Rod - 6ft 8in - 10-30g. The Expride spinning and baitcasting rod range is a versitile range for freshwater predator fishing. It's a rod with an extra fast action, which makes it suitable for modern fishing techniques. It can be used allround for casting crankbaits and softbaits for species like pike, zander and perch. Because of the extra fast action, the rod is very sensitive and has a lot of back-bone to set the hook properly. This also helps fighting fish. The...
(more)
Available in #6, #7, #8, #9, #10, #12
Save £400
Vision 4 Piece Merisuola Graphene Predator Fly Rod - 9ft. Vision made a very successful upgrade for the XO rod series by introducing the XO Graphene rods. They wanted to do the same for the Merisuola range as Merisuola and Graphene are truly meant to be together. The Merisuola Predator series is a bit softer compared to the Merisuola Graphene series. The action is adapted to throwing big flies for big predatory fish in fresh-, brackish- and saltwater. Because of big demand from active fishermen...
(more)