Certificate Wallets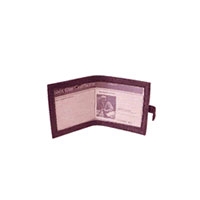 Black leather with Bisley logo embossed. Clear panel to hold Firearms Certificate....
(more)
(2)
£11.99
In stock
Purchase Options
Primos Malton Leather Certificate Wallet. Malton bridle leather wallet designed to accommodate two folded shotgun certificates and also two credit cards. Measures 5.25" x 9.5"....
(more)
Available in single format to hold one certificate, or as a double to hold two certificates....
(more)
(1)
From

£8.99
Check stock
Purchase Options