Hoodies
Beretta Broken Clay Sweatshirt. Men's sweatshirt in comfort cotton with Beretta Competition printing. The Beretta Victory Broken Clay Sweatshirt pays homage to the Beretta Shooting Team. It is made of cotton and features different printing on the front, sleeves and back, related to the Beretta Competition World....
(more)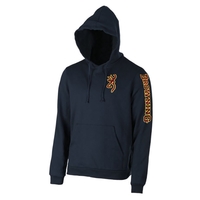 Browning Snapshot Sweatshirt Hoodie....
(more)
(2)
RRP

£45.00
£36.99
Check stock
Purchase Options
A warm sweatshirt perfect for use in warm and cold-weather sports shooting....
(more)
(1)
RRP

£54.00
£44.99
Check stock
Purchase Options
Distinctive looking hoodie will keep you warm and cosy!
New
Ridgeline Range Hoodie. A warm and distinctive looking hoodie....
(more)
Super-warm fleece and super-slick style!
Ridgeline Ballistic Hoodie. Being warm and looking good do go together. The new Ballistic hoodie is made from super warm SOUTHERN STAR 275™ fleece and has been developed with the modern hunter in mind. We have also ensured that this hoodie is practical so it fulfils all your everyday needs....
(more)
(9)
RRP

£44.99
£39.99
Check stock
Purchase Options
Ridgeline Kids Ballistic Hoodie. Be Like Dad with this great looking hoodie. Same features and details as the adult version will make the kids really feel part of the hunt....
(more)
(2)
RRP

£39.99
£34.99
Check stock
Purchase Options
Amazing less than 1/2 price offer!! Last few! Size S only!
Save £36
Ridgeline Faithful Hoodie. Fantastic value and quality, pile fleece lined hoodie. Olive coloured with with printed Faithful Logo. Lined hood. Elasticated cuff and waist. With hand warmer pockets....
(more)
(12)
RRP

£49.99
£13.00
Check stock
Purchase Options
Save £50
Simms Rivershed Full Zip Hoody. In the race for first crack at prime water, Simms' Rivershed® is the hoody you grab for fleece comfort, two-way stretch mobility, and warmth-to-weight heroics. Features include UPF 50 no-pill face fabric, a full-length front zipper, ergonomic hood, and chest and handwarmer pockets. Everything essential. Nothing needless. Traditional fit and flawless style come standard....
(more)

(1)
RRP

£139.00
£89.00
Check stock
Purchase Options