Lure Boxes / Wallets
Save £9
Snowbee Bum Bag For Lure Vest. Zip-off Bum-Bag - can be worn as part of the Snowbee Fishing Lure Vest, or separately, as a stand-alone bum-bag....
(more)
Save £7
The new Snowbee Spinner/Plug Wallet is a larger version of the popular Snowbee Spinner Wallets. The same double-sided design with zip closures, this larger size is designed to take large Lures & Plugs....
(more)
(1)
RRP

£19.99
£12.00
In stock
Purchase Options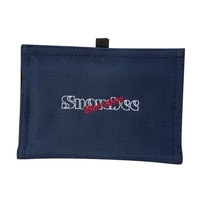 Save £1
As you'd expect from Snowbee, their new Rig/Trace Wallet is a bit different! 12 heavy duty, clear trace pouches in 2 sets of 6, held in place with a neat Velcro spine. Easily removable and extra sets can be added or removed as required, so you can keep different rigs in each set and only take what you need. Size: 10" x 7"....
(more)
Save £3
We have all been in the situation of trying to extract "plugs" from a traditional multi-box to find all the trebles have become entangled! Snowbee's new Lure boxes solve the problem in style. A unique "boat shape" profile to the individual compartments, allows one arm of the trebles to sit down in the "keel slot" allowing the lure to sit comfortably in the "V" formed by the other two arms. Simple, but highly effective. The double sided design also features clear lids for quick identification, p...
(more)
(2)
RRP

£10.99
From

£7.99
Check stock
Purchase Options