Cooking Utensils
Light My Fire Fire Grill. Extend your adventurous outdoor menu with a portable and adjustable grill. Just add a stick. Compact, practical, portable and a brilliant way to extend your adventurous outdoor menu with this adjustable and versatile FireGrill. Simply attach to any stick you find, and you're ready to get grilling. Just add anything from fish to veggies, burgers or toast and serve you, your friends and family with a fantastic meal cooked over the open fire! The foldable grill also opens ...
(more)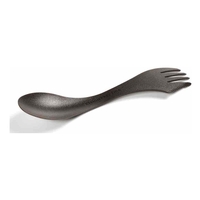 Light My Fire Bio Spork. The only "on-the-go-cutlery" you'll ever need - goodbye disposables! The Light My Fire Spork original is our spoon, fork and knife in-one combo. With a spoon at one end and a fork with a serrated knife-edge at the other, it's a versatile, reusable and compact addition to any pack lunch, picnic basket, handbag and backpack. Like our Restraw, it's a fantastic alternative to low quality single-use plastics that cause so much environmental damage. The Spork is safe to use wi...
(more)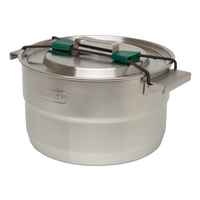 Stanley Base Camp Cook Set - 0.35L. Take your camp kitchen to the next level. This 21-piece cookset packs all the convenience of a fully stocked kitchen into a package that is perfect for tiny homes, campsites and #vanlife. The Stainless Steel pot and 3-ply fry pan are built to perform like pros, ensuring that food heats more evenly. With all the tools needed to prep, cook, serve and clean up, you may even keep this set in your kitchen for everyday use....
(more)
RRP

£159.99
£129.99
Out of stock - Email me