Cooking Utensils
Stanley Adventure Camp Cook Set. Camp cooking set including cooking pot and insulated cups....
(more)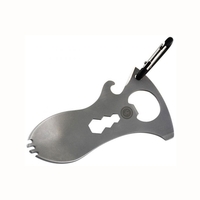 New
Spork Multi-Tool. You'll never want to be without this handy outdoor Spork Multi-Tool! This tool has you covered at meal time and when you need a fast repair. Stainless steel construction ensures that this tool will hold up to demanding tasks. A handy carabiner is included for quick and easy attachment to your gear, belt, or bag....
(more)
New
KLIPP Utensil Set. This KLIPP Utensil Set is made of extremely tough stainless steel. It features a smooth matte-metallic finish and is durable enough to last a lifetime. The locking biner keeps the utensils together during storage....
(more)