Miscellaneous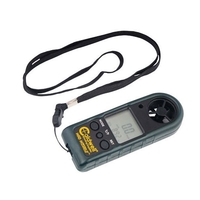 Caldwell Wind Wizard II Wind Meter. The Caldwell Wind Wizard II has been re-designed to be the best value wind meter on the market and an ideal tool for indicating wind speed. Knowing wind speed gives the shooter the ability to judge shot placement in varying wind conditions. Both compact and portable, this wind meter reads wind and temperature in various units of measure. The non-slip rubber sleeve protects the unit and ensures it'?s easy to grip even with gloved hands. Operates on one CR2032 b...
(more)
GRS Hunter Light Spacer Kit - 2pc. Spacer Kit made to adjust your length of pull on your GRS Hunter Light stock. In hunting, just as every ounce matters, every inch counts – Developed to grow the Length of Pull of your Hunter Light in increments of 0.4 in (1 cm). The LOP will be extended from 32.5 cm to 34.5 cm....
(more)
GRS Bag Rider. The GRS Rear Bag is made to fit the rear Picatinny Rail on our Bifrost, warg, Ragnarok and Bolthorn rifle stock models. Made in anodized aluminium it is very durable and easy to install....
(more)
RRP

£99.99
£89.99
Out of stock - Email me
Includes round red, green & white sights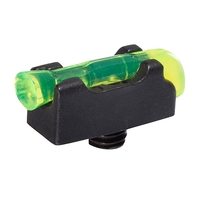 Spark III brings HIVIZ's ingenious interchangability to one of the brightest, most economical sights on the market. This big, bright dot is .090" in diameter, and comes with red, green, and white LitePipes, bringing affordable accuracy to any shotgun....
(more)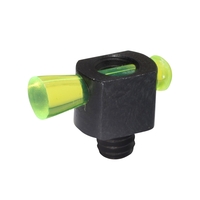 The Spark II is one of the first compact sights that HIVIZ developed and remains a top seller today. It's tiny but brilliant with an affordable price tag. Unlike the Spark III, the LitePipes are not interchangeable, so make sure you pick the color that best suits your needs....
(more)
Includes round green, red & orange sights
If you're looking for a smaller, more affordable alternative to the CompSight, the HIVIZ MiniComp is a popular choice. Like all HIVIZ bead sights, MiniComp is bright and easy to install, and is the only HIVIZ bead sight offering an orange LitePipe in addition to the standard green and red....
(more)
Includes triangle/round green, red & white sights
TriComp brings pinpoint accuracy to target acquistion. This innovative interchangeable design is loaded with options, equipped with both triangular and round LitePipes in a variety of colors and sizes. Any hunter or shooter can create a sight picture that suits their specific needs....
(more)
Includes variable round green, red & white sights
The HIVIZ CompSight has become the standard for competitive shotgun shooters and is the choice of national and Olympic champions. The original CompSight design features an all-steel base and interchangeable LitePipes. Includes multiple diameters of LitePipes in green, orange, red, and white along with a LitePipe storage/changing key....
(more)
Includes round green, & red sights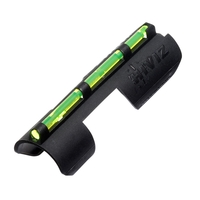 The MPB-TAC is one of the most versatile tactical shotgun sights available today. The sight body is an overmolded steel spring that clamps down securely to most 12 gauge shotgun barrels. It is easily installed and easily removed with no tools required because the sight self-centers behind the front bead for perfect alignment. It can fit on shotgun models with extended magazines as unique cutouts ensure the sight does not interfere with the magazine clamp. The interchangeable LitePipe is enclosed...
(more)
(1)
£21.99
In stock
Purchase Options
Includes round green & orange sights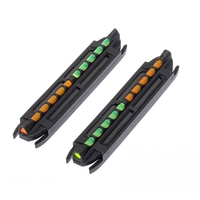 HIVIZ Two-In-One magnetic front sight. We've combined green and orange LitePipes into the same sight, to change colors simply turn the sight around on the rib. All Two-In-One sights come with one orange/green round pipe sight and one orange/green triangular pipe sight. Change it fast with Two-In-One!...
(more)
New
Hornady Digital Hygrometer. Hygrometer displays high/low for temperature and humidity in Fahrenheit or Celsius on large touchscreen display. Install quick-connect bracket on interior door or wall of safe or vault room, or use fold-out stand....
(more)
New
Napier Apex Finders Keepers. Apex Finders Keepers are Hi Visibility, flat profile silicone outdoor gear identifiers and hand grips....
(more)
Accurately take the guesswork out of measuring your shooting groups with Group Mate - 100% Accurate!
Snappy Targets Group Mate Shooting Gauge. Group Mate has been designed with the shooter in mind and takes away the guesswork with measuring your marksmanship. The gauge precisely measures your groupings using either a MM or INCH gauge. The gauge can be used with small bore or air rifles and pistols and is a handy size to carry around in you gun slip or pistol box. No more searching around for a ruler at the range!...
(more)
(6)
£5.99
In stock
Purchase Options