Snow & Ice Grips
Save £3
Fladens Ice Cleats are perfect for walking, running and fishing in the colder weather. Made of thermo plastic elastomer, they are flexible to -40°C for easy on and off use....
(more)
(1)
RRP

£7.99
£4.99
Check stock
Purchase Options
Save £4
The Trailwise City Tracks Shoe and Boot Grippers fit simply and securely over your footwear to give you extra grip in the snow or ice. Easy to take on or off, they're perfect for commuting or walking through town....
(more)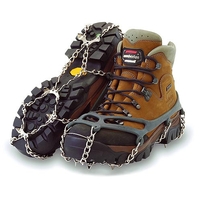 Save £16
Zamberlan Show Chains are extremely resistant stainless steel snow chains suited to walking and running on snowy and icy ground....
(more)