Lights & Torches
Compact, rugged hand lantern.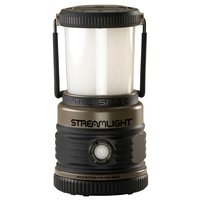 The new Streamlight Siege battery-powered lantern is compact and rugged, perfect for all outdoor and survival situations. Waterproof up to a depth of one metre, engineered to float and resistant to battery corrosion, the Siege is built to survive the harshest environments....
(more)
USB rechargeable - 325 lumen small outdoor lantern.
New
The ultimate rechargeable outdoor lantern. This 2-in-1 lantern/flashlight combo provides 360° of light to illuminate a large area or a focused beam to light your path. Its small 4.5 inch size makes it the ideal camping companion and go to light source. It accepts Streamlight's rechargeable 18650 USB battery OR two CR123A lithium batteries, so you'll always have a beam when you need it....
(more)
Rechargeable 1100 lumen lantern with USB charger - waterproof and it floats!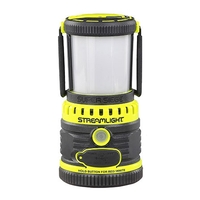 Streamlight Super Siege International AC Lantern. This rechargeable, 1,100 lumen scene lantern also provides an auxiliary USB power source to charge mobile devices or other Streamlight products. The 8800mAH lithium ion battery capacity gives up to 4 full charges for most smartphones....
(more)
(1)
RRP

£227.00
£179.99
In stock
Purchase Options