Wellington Boots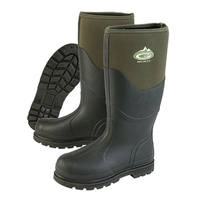 Grubs Eskline 8.5 Wellington Boots. A wellington combining Grub's unique Insu-Foam Ultra technology with advanced 8.5 thermal engineering....
(more)
(13)
RRP

£99.95
£84.99
Check stock
Purchase Options
Save £60
Simms G3 Guide 14in Pull-On Boot. For shallow water maneuvers, without the waders, these bomber river-ready boots are built to charge into the day. No matter the season, warm dry feet should be the norm, not the exception. Our men's G3 Guide Pull-On Boot is a rugged, waterproof boot for shallow waters and cold days when keeping your feet warm and dry is a top priority. Comfort tested to -40 F, they feature a bomber rubber outsole with 7-mm neoprene insulation and a grid-fleece lining. The Vibram...
(more)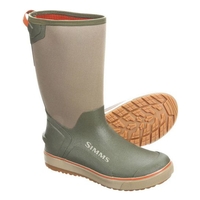 Save £24
Simms Riverbank 14in Pull-on Boot. Waterproof pull-on boot with a rugged outsole for on-deck or bankside excursions. Warm, dry feet go a long way to all-day comfort no matter what the day holds. Our men's Riverbank Pull-On Boot is a fully waterproof, insulated boot for boat, shore, town, and all points in-between. The rubber and neoprene boot features a grid-fleece lining to insulate your feet, and our Right Angle® Footbed gives you a supportive, comfortable fit. A multidirectional outsole grips...
(more)
Neoprene Lined & 'Spike-Sole'
A hand laminated rubber boot, bonded to a neoprene lining and upper, for the ultimate in warmth and comfort. Add Snowbee's famous 'Spike-Sole' and you have the ultimate boot for any occasion where deep wading is not required. The spike sole consists of hardened steel spikes, set between deep rubber 'cleats' so they are able to 'flex', which is what gives them their outstanding grip. We haven't yet found a surface this sole will not grip on – even ice!...
(more)
(6)
RRP

£129.99
£109.99
Check stock
Purchase Options