Wading Staffs
Save £20
Fishpond Slippery Rock Wading Pro Wading Staff. We have it on good authority that Moses parted the Red Sea with a staff similar to this. We took his design and improved it, with a large cork and foam and handle for secure grip, and your choice of rubber or carbide tip for the ultimate in stability. Step into the flow with confidence....
(more)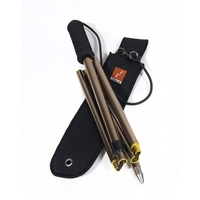 Guideline Foldable Wading Staff. Practical and handy lightweight Guideline foldable wading staff that will extend automatically when you take it out of the pouch....
(more)
(2)
RRP

£73.61
£66.99
In stock
Purchase Options
Simms Wading Staff. For every cubic foot per second scheming to send you sideways, Simms' 7075 Aluminum Wading Staff offers a balance-enhancing solution....
(more)
Simms Pro Wading Staff. Sourcing steelhead across the roiling waters of Washington's Olympic Peninsula is easier with an ally at your side. Simms' Pro Wading Staff excels against the push and pull thanks to the lightweight, high-strength capabilities of best-in-class carbon tubing....
(more)
Simms Wading Staff Retractor. Stay connected Keep your wading staff secure and at the ready, with this bomber retractor built with a braided Spectra cable. Featuring an ample three feet of reach, Retractors conveniently connect to both wading staff straps and sheaths....
(more)
(1)
£24.99
In stock
Purchase Options
Simms Wading Staff Rubber Tip. A rubber tip for better grip on the river bottom....
(more)
Snowbee Telescopic Wading Staff With Depth Markers. A new version of the popular, original model, but marked with depth markers, up to 140cms. Popular with fire brigades for H&S reasons, but just as useful to the angler, when you need to know if the next step could be out of your depth....
(more)

(5)
RRP

£37.99
£32.99
In stock
Purchase Options
A tough, practical wading staff made from anodised aluminium. Telescopes down from a maximum 63" to a convenient 34" for travelling....
(more)

(3)
RRP

£31.99
£28.99
In stock
Purchase Options
The new heavy duty zinger can be used with large nets, such as Salmon Gye nets, as well as wading staffs. The 54" Kevlar cord can be locked at any position, so a wading staff or landing net is always attached to you, but at a convenient distance....
(more)
(1)
RRP

£17.99
£15.99
In stock
Purchase Options