Thermometers
C&F Design Thermometer. Centigrade and Fahrenheit thermometer with a split ring to attach to a zinger. A handy coil in the side holds waste tippet, while a strong magnet in the base is great for finding lost flies....
(more)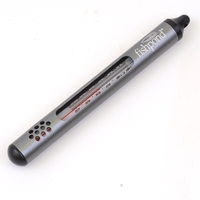 Fishpond Swiftcurrent Thermometer. What's your preference? This re-designed thermometer measures water temperature from -10 to 50 degrees Celsius....
(more)
Guideline Stream Thermometer. This Stream Thermometer is a great way to avoid the trial and error fishing approach many anglers take due to the lack of water temperature knowledge. Designed with a protective metal case with a lanyard ring and a good looking band. Shows both celcius and fahrenheit....
(more)