Lanyards
C&F Design Lanyard. Easy to use accessory lanyard with shock cord length adjustment. Two inside and six eternal locking tool snaps will not tangle or intertwine. Includes a a plastic holder to store tippet spools. Designed to hold all C&F accessory tools....
(more)
Fulling Mill Lanyard. A must-have for every fisherman. Adjustable foam neck strap with 6 attachment points....
(more)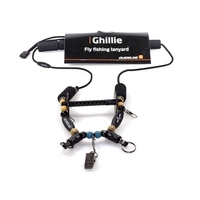 Guideline Ghillie Lanyard. A fishing lanyard is a very useful accessory that will keep the most used fishing tools within reach....
(more)
Guideline GL Lanyard....
(more)
(1)
£3.99
In stock
Purchase Options
Loon Neckvest Lanyard Loaded. The Neckvest Lanyard is more versatile and sturdier than ever. New features include the light and durable paracord construction and five S-carabiner attachments, which offer secure storage and maximum convenience....
(more)
Simms Guide Lanyard. Adjustable, USA-made lanyard ideal for keeping essential tools within reach....
(more)
(2)
£24.99
In stock
Purchase Options