Portable Power, Solar Chargers and Solar Energy
Uttings stock solar chargers and portable power for your camera, mobile phone, GPS unit and other gadgets. Keep your gadgets powered up with our excellent range of solar chargers and portable power. Utilising solar energy direct from the sun, never be lost without your GPS unit or mobile phone. We have a range of solar chargers from Goal Zero and Freeloader so invest in the best portable power from Uttings today.
Ansmann M-5V Powerbank 10.8. Compact, convenient and mobile external rechargeable battery pack with a capacity of 10.800mAh....
(more)
Ansmann Powerbank 10.8 Mini - Smart IC. With a charge capacity of 10000 mAh and an output power of up to 2.400 mA (at 5V DC), the compact powerpack is able to charge mobile devices several times. The high-quality external battery pack with sturdy housing is compatible with all standard USB devices such as smartphones, tablets, mobile phones, MP3 players, navigation units and many other devices that can be charged via USB....
(more)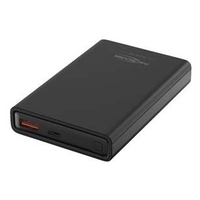 Ansmann PB320PD Powerbank Mini - 10000mAh. Sleek and portable, the PB222PD from Ansmann is a high capacity power bank with a convenient numeric display for percentage-point capacity indication. The power bank provides a USB-A output and a dual function USB-C port that functions as both input & output. The USB-C port is fully compliant with Power Delivery 3.0 and supports QuickCharge and Huawei Supercharge technologies for high speed smartphone charging....
(more)
EZVIZ 300w Power Station. Introducing the PS300 Portable Power Station from EZVIZ – your reliable and versatile power companion for all your outdoor adventures and power outage needs. This compact and lightweight power bank packs a whopping 313Wh of power capacity, making it ideal for powering small appliances and essential electronics on-the-go....
(more)
EZVIZ 600w Power Station. Introducing the EZVIZ PS600 Portable Power Station - the robust power solution for all your adventures. With a whopping 607Wh capacity, this power station is your reliable source of energy for any situation, whether you're on a camping trip, experiencing a blackout, or working on a special project....
(more)
EZVIZ 2400w Power Station. Stay off-grid whenever you want with the PS1300 Portable Power Station from EZVIZ. With its powerful 1,324Wh capacity, lightning-fast charging, and unmatched durability, it's your ultimate solution for all situations. From blackouts to outdoor adventures, the PS1300 keeps your devices and appliances running. Plus, it's eco-friendly, allowing you to harness solar power without compromising speed. Whether it's an emergency or a new adventure, the PS1300 has you covered....
(more)
EZVIZ 100w Solar Panel for Power Station. The high-efficiency PSP100 Portable Solar Panel from EZVIZ goes with you on road trips, camp sites, and just about anywhere! Its folding, easy-to-carry design and adjustable, built-in stand help capture maximum sunlight to keep you powered up. Get clean, reliable energy by harnessing the power of the sun....
(more)
EZVIZ 200w Solar Panel for Power Station. Designed to satisfy both the adventurous outdoor spirit and the leisurely weekend lifestyle, the PSP200 solar panel captures the power of nature so you can leave your worries behind. It uses direct sunlight to charge your EZVIZ power station in an easy, reliable way....
(more)
Wulf 4 Portable Power Pack (4000mAh/3.7V). The WULF 4 Portable Power Pack is a powerful and fully implemented powerbank with a stylish flashing battery indicator, torch function and 2 built-in lithium batteries (4000mAh/3.7V)....
(more)
RRP

£29.95
£26.99
Out of stock - Email me