Recoil Pads
Anson & Deeley Birchbrook Leather Recoil Pad. Hand crafted with 100% real leather, this slip on recoil pad and stock extender can reduce felt recoil by up to 50%....
(more)
Bisley Leather Slip-On Recoil Pad. Brown leather recoil pad which slips easily over the butt of any firearm, thanks to its elasticated fitting band. Features foam insert to absorb recoil from the shot. Will add approximately 25mm to the length of a gun....
(more)
Save £44
Orvis Leather Recoil Sleeve And Pad. Save your shoulder with this handsome, genuine leather recoil sleeve and pad. Just slip on over the butt stock. Perfect for those days at the clays range when you go through boxes of shotshells. Also good for increasing length of pull if needed. Embossed Orvis logo. Length measured from heel to toe of butt, width measured in center of butt. Order one size up if measurements are close....
(more)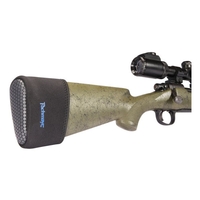 Pachmayr Shock Shield - Gel Filled Recoil Pad. The Shock Shield is the simple solution to reducing recoil in a variety of rifles and shotguns. No need for different size pads, as its one size design stretches and contours to a variety of stock shapes and dimensions. Filled with a pocket of soft gel, felt recoil is greatly reduced. Easy on and easy off. Simply stretch it over the butt of your firearm. Keep one in your range bag so you always have it handy!...
(more)