Tarps & Shelters
The simplest and lightest form of shelter is a tarp, the Terra Nova Competition Tarp is great for building different types of shelter systems in the backcountry....
(more)
RRP

£130.00
£99.00
Out of stock - Email me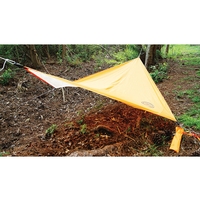 B.A.S.E All Weather Tarp, with a single person design eliminating the need for a full size tarp. Lightweight and compact, it protects against the sun and foul weather. Includes tarp, guy lines and steel stakes and stuff sack for carrying components when not in use....
(more)
Ultimate Survival Technologies B.A.S.E Hex Tarp. The B.A.S.E. Hex Tarp design provides excellent coverage in all weather conditions....
(more)