Hip Flasks & Tankards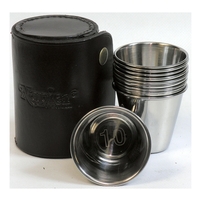 Beautifully handmade stainless steel tumblers, each one individually crafted and numbered 1 to 10 inside....
(more)
New
Stanley Classic Easy-Fill Wide Mouth Flask - 0.23L. It's always worth taking good company on the road. Sometimes it even fits in your pocket!...
(more)
(1)
RRP

£25.99
£19.99
In stock
Purchase Options
New
Stanley Legendary Camp Mug - 0.35L. There's a reason we call this camping mug Legendary. It's made tough with Stanley's double-wall vacuum insulation, so your favorite drinks stay hot or cold longer. The secure press-fit Tritan™ lid also prevents splashes so you can sip easy in the kitchen, on the job, or around the campfire....
(more)