Cleaning & Care
Keep your spotting scope performing at its peak by using our range of spotting scope cleaning & care products. Clean lenses will ensure you get the best possible optical clarity every time.
Our range of cleaning & care products includes lens cleaners, cleaning cloths and complete optics cleaning kits from Bushnell, Swarovski and more.
Aimpoint Lens Cleaning Cloth....
(more)
(1)
£5.99
In stock
Purchase Options
New
Alpine Innovations Spudz Classic Cloth - Open Bottom Pouch. Our patented Spudz Classic is the original microfiber cloth that stays attached to its pouch. Built with premium microfiber and an open-bottom pouch, Spudz Classic is offered in two sizes and a variety of patterns to choose from. See why millions have "hooked-up" with Spudz, and see the difference....
(more)
Bisley Lens Cleaner - 100ml. Maximises clarity and brilliance. Our formulation is deliberately gentle to ensure that lacquer finishes are not harmed. The non smearing solution will enhance shooting, particularly in low light conditions. The Anti Static formulation will reduce further particles attaching to the lens. 100ml pump spray....
(more)
(3)
£4.99
In stock
Purchase Options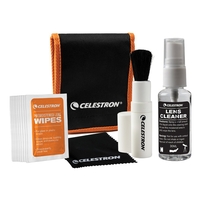 Celestron Lens Cleaning Kit. Wipe away dust, dirt, fingerprints and other particles on your lenses to see clearly with the Celestron Lens Cleaning Kit. This cleaning kit works on all glass and optical surfaces, including telescopes, binoculars, spotting scopes, monoculars, microscopes, and even your camera lenses, computer screens, and mobile devices. The kit comes complete with a retractable lens brush to remove dust particles and dirt and two options to clean smudges and fingerprints off of y...
(more)
inc FREE Bushnell Trophy Cam HD Essential E3 Trail Camera (RRP £196.95) with every Scope or Binocular over £1000 - Incredible deal - only while stocks last!
Leica Optical Cleaning Cloth. The optical cleaning cloth for binoculars and spectacles for outdoor fans is an original from the USA - `Made by Spudz´, the world famous manufacturer of innovative optical cleaning products. When not in use, the small, extremely handy an featherweight optical cleaning cloth is stowed away safe and sound in its own weatherproof neoprene pouch. Clipped to a rucksack or a pair of binoculars, it´s not only ready for use in the flash, it looks really stylish, too....
(more)
(3)
£8.00
In stock
Purchase Options
The SWAROVSKI OPTIK cleaning set basic includes moist cleaning cloths, a cleaning brush, cleaning fluid, and a microfiber cloth. Ideal for cleaning all kinds of lenses....
(more)
(10)
RRP

£26.00
£23.00
In stock
Purchase Options
New
Swarovski Cleaning Set Optics (CSO). The CSO cleaning set optics allows a thorough and gentle cleaning of all optical lenses. The set consists of a lens cleaner, a cleaning brush, a dust blower and two microfiber cloths in different sizes - all practically packed in a high-quality bag....
(more)
(11)
£46.00
In stock
Purchase Options