Zeiss
Carl Zeiss is one of the world leaders in optics, employing 11000 people and continually setting new standards in sports optics.

When used to explore the world, nature in particular, Zeiss' first class optics bring observers deep into the wild, showcasing animals and their habitats in fascinating detail. Sophisticated eyeglass lenses ensure optimal visual comfort in sports, in all conditions.
Save £706
The advanced optics of Zeiss Spotting Scopes feature fluoride glass in the objectives, protective LotuTec lens coating that sheds water and dirt for unadulterated results, and fields of view that are beyond compare. Waterproof, fully armored, dust proof housings are light, rugged and built to take the punishment of any adventure. Dual Speed Focus aids functionality and ease of use, allowing the observer a rare, close-up, and incredibly detailed look at the greatest distances....
(more)
Save £106
D 15-45x/20-60x with variable "Vario" magnification. All eyepieces by Carl Zeiss are equipped with a bayonet catch as well as comfortable eye cups and therefore also perfectly suitable for eyeglass wearers....
(more)
(1)
RRP

£475.00
£369.00
In stock
Purchase Options
Save £96
For Diascope 65T*FL Straight....
(more)
Save £406
For both driven hunts and deerstalking, you can rely on this small all-rounder to ensure rapid target acquisition. Thanks to the higher magnification, the VICTORY HT 1.5-6x42 even allows you to shoot at long range. This means you can enjoy greater flexibility on the hunt....
(more)
Save £471
Zeiss Victory HT 1.5-6x42 HT ASV H (Elevation) IR Rifle Scope. Whether a driven hunt or stalking game, this compact all-purpose scope will impress you with its fast target acquisition, but also enables shots at long distances thanks to the up to 6x magnification....
(more)
Ex-Display Model (Includes Mounts!)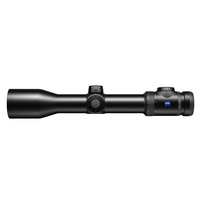 Save £601
Zeiss Victory V8 1.8-14x50 IR ASV-H (Elevation) / ASV-S (Windage) Rifle Scope. This compact all-rounder is suitable for many applications and offers maximum accuracy at any distance. Relaxed viewing and intuitive targeting guarantee fast and reliable shots. The large zoom range with parallax compensation makes this scope the ideal companion in any situation - from driven hunts to stalking and stand hunting in twilight....
(more)
Save £146
The Zeiss Conquest HD 10x42 binoculars have been designed as a robust companion for twilight use. With its 8 x magnification it gives a stable image in all situations. The HD-lens system guarantees the best colour reproduction for impressive observation....
(more)
(1)
RRP

£995.00
£849.00
In stock
Purchase Options