Tripod Plates
Spare Quick-Release Plate for the First Horizon 8126 3-Way Heavy Duty Tripod....
(more)
Spare Quick-Release Plate for the First Horizon 8115 2-Way Heavy Duty Tripod....
(more)
Lightweight Version of the 200PL-14 P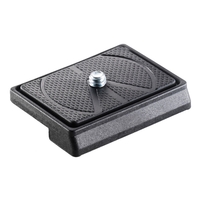 Manfrotto Light Photographic Plate. The Manfrotto 200LT-PL Quick-Release Plate is ideal for quickly attaching cameras onto all compatible Manfrotto quick-release assemblies equipped with an RC2/Q2 attachment and a load capacity of 8.8 lb or less. If using this plate on a head with a greater load capacity, it is recommended not to exceed 8.8 lb of gear. Thanks to its lightweight technopolymer body reinforced with extremely stiff glass fibers, the plate can stay attached to your camera without add...
(more)
RRP

£28.95
£23.00
Out of stock - Email me
This adapter plate has been specifically designed to eliminate unwanted rotation of the spotting scope during viewing. Its universal design means it can be used to mount all makes of spotting scope, no matter what their foot shape (square, rectangular, trapezium), on any Manfrotto two-way head with rapid RC2 connector system. The adapter is made from machine-tooled aluminum with a black anodised finish. In addition to the standard 1/4' screw, it has two grub set screws to lock the spotting scope...
(more)
(1)
RRP

£104.95
£89.00
In stock
Purchase Options
Fits the 501 HDV Video Head
Save £15
Plate supplied with 1/4'' and 3/8'' camera fixing screws....
(more)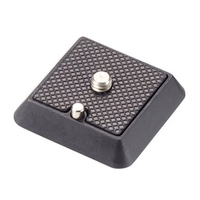 Opticron QR Plate. An additional quick relase plate to be used in conjunction with 42639 Quick Release Plate & Shoe...
(more)
Save £23
Velbon QB-F51 long quick release plate for the Velbon FHD-51Q head....
(more)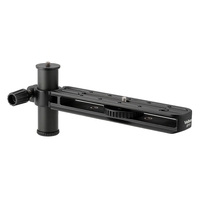 Velbon SPT-1 Lens Support. The SPT-1 Lens Support adds support and stability when shooting with a DSLR camera and heavy telephoto lens. It fits between the foot on the lens's tripod collar and a tripod. The SPT-1 can attach to a quick-release plate, Arca-type compatible clamp, or directly to any 1/4" threaded screw on a tripod or head. The attachment point can move forward or backward so that the height-adjustable mounting column can be located in the correct position to screw into your camera's...
(more)
Wimberley Arca-Swiss Style Lens Plate. An innovative line of Arca-Swiss style quick-release plates for collared lenses that attach to the foot of your lens. Available in 5 lengths....
(more)
(1)
From

£59.00
Check stock
Purchase Options