EKA Knives, EKA Hunting Knives
EKA knives are a Swedish company that has been manufacturing knives since 1898, and are now at the forefront of the industry. An emphasis on quality and using only the finest materials mean their knives are some of the very best available. 
Uttings stock a great range of EKA knives suitable for a variety of applications, whether you are looking for a hunting knife such as the EKA Swing Blade Knife or a full set of Butchery knives.
There is an EKA knife to suit your every need. Take a look at our selection and buy an EKA knife from Uttings today.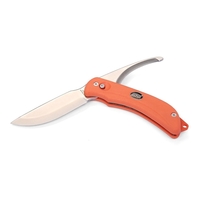 EKA has done it again! The G3 is a new take on the original tried and proven design and concept. The G3 has a more ergonomically designed and formed handle for an exceptional grip and feel in the user's hand. Quickly switch between the Skinning Blade and the Gutting Blade with a simple fluid motion when the lock button is depressed....
(more)
(4)
RRP

£56.95
£49.99
In stock
Purchase Options