Folding Knives
Boker Magnum Classic Pocket Steel Folder Knife. A useful and practical pocket knife. The blades are made of 440 stainless steel, as are the bottle opener and can opener, guaranteeing a long life. The fittings are made of steel, and the ring is perfect for a lanyard or key chain. With a real rosewood handle. Non locking....
(more)
(8)
£13.99
In stock
Purchase Options
UK EDC (Everyday Legal Carry)
Buck Knives Solo Knife - G10 Handle. Traditional, compact pocket tool. This single edged tool has a clip edge, perfect for detail work, piercing and cutting in tight places....
(more)
UK EDC (Everyday Legal Carry)
Small, two-bladed woodgrain pocket knife....
(more)
UK EDC (Everyday Legal Carry)
Buck Rival Slip Joint Knife. The 364 Rival is a sleek knife that is lightweight, functional and extremely robust. One hand opening, constructed of 420HC steel, it features a stainless steel removable pocket clip for easy carry....
(more)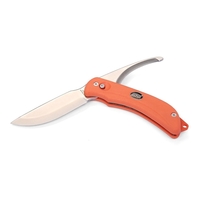 EKA has done it again! The G3 is a new take on the original tried and proven design and concept. The G3 has a more ergonomically designed and formed handle for an exceptional grip and feel in the user's hand. Quickly switch between the Skinning Blade and the Gutting Blade with a simple fluid motion when the lock button is depressed....
(more)
(5)
RRP

£69.95
£59.99
In stock
Purchase Options
Gerber Freeman Guide Folding Knife. A go to knife when on the hunt. The folding application gives added portability, while larger finger grooves offer comfort for all day use. The TacHide™ onlay provides a secure grip....
(more)
Everyday Carry
Gerber Wingtip Pocket Folding Knife - UK EDC. A UK legal knife with a compact and classic style, as well as a slip joint opening and closing mechanism, designed to open and close with ease. The design features an aluminium handle scales and a mirror polished 2.5-inch blade. Its small size allows it to be carried inside your pocket with minimal distraction. Available in two colour options, grey and FSG....
(more)
(3)
RRP

£24.95
£21.99
In stock
Purchase Options
Everyday Carry

Gerber Straightlace Knife - UK EDC. Introducing the Straightlace™, a UK legal knife designed to open and close without a locking mechanism. The knife features a stainless steel 2.9-inch sheepsfoot blade, that is almost 3-inches in length. The handle has aluminium handle scales, a reversible pocket clip and lanyard hole for different carry options. The Straightlace also has a simple yet modern take on classic and is available in 2 colour options, Blue or FSG....
(more)
(1)
RRP

£29.95
£26.99
In stock
Purchase Options
Ultimate Survival Technologies Survival Beast Tool. The Survival Beast Multi-Tool by UST offers 5 essential everyday tools in one multi tool with carabiner carry clip and built in LED light....
(more)