Socks
Save £8
Thin and shaftless running sock that provides excellent cooling and moisture transport in warm conditions. Ergonomic, running-specific design and advanced pressure-point technology ensure optimal comfort, while bodymapped mesh offers efficient ventilation....
(more)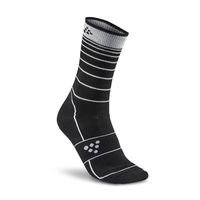 Save £9
Craft Gran Fondo Socks. Ergonomic bike sock with bodymapped mesh panels for efficient moisture transport and ventilation. Features classic racing design and wide elastic cuffs. 2-pack....
(more)
(1)
RRP

£16.00
£7.00
Check stock
Purchase Options
Save £16
Craft Bike Lycra Bootie. The Bike Lycra Bootie is made of very elastic 4-way stretch fabric and offers an excellent moisture transport. It has silicone gripper at top, zipper at inside heel and an aerodynamic fit. The bootie comes in a sublimation print....
(more)
Save £7
Sealskinz Waterproof All Weather Mid Length Socks with Hydrostop. A performance thin weight, mid length waterproof sock featuring Hydrostop designed specifically for road cycling for conditions where minimal insulation and maximum breathability are required....
(more)