Gloves
Save £18
Craft PB Gloves. PUNCHEUR is developed for dedicated riders who live their sport and work out several days per week all year round. Technical fabrics, sophisticated design and carefully selected details combine to provide stylish garments with excellent body- temperature management, tight fit and freedom of movement....
(more)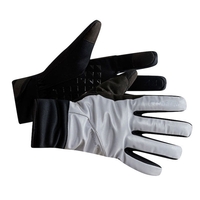 Save £20
Craft Siberian Glow Glove. Siberian Glow Glove is a warm, wind- and water-protective cycling glove with reflective fabric. Fleece lining provides extra warmth while silicone print in the palm ensures great grip. Comes with soft terry on thumb and Velcro adjuster and pre-shaped design for optimal fit....
(more)
Sealskinz Waterproof All Weather LED Cycle Gloves. Be safe, be seen. The Sealskinz Halo All Weather Cycle Glove is a lightweight performance, three layer glove that has a powerful triple LED light integrated into the back of the hand. These gloves are designed to provide excellent grip and dexterity for conditions where waterproof breathable performance and added visibility in low light are required, making them suitable for a multitude of conditions and cycling disciplines....
(more)