Dog Apparel, Dog Clothing
Your dog is very dear to you, and at Uttings we understand this and so provide a great selection of dog apparel so you can provide your dog with maximum comfort in any climate.
With a wide variety of dog clothing, dog coats and dog accessories at Uttings you are bound to find the right product for your pet. We stock a number of great products from Kurgo and Ruffwear, as well as products from Seeland for the pet owner.
Take a look through our selection of dog clothes at Uttings today.
aniMate Padded Harness Dog Coat. This Harness Dog Coat comes complete with an adjustable waterproof zip (length varies dependant on size of coat) and should suit most harnesses. Manufactured from our very popular 600D waterproof outer, it is also padded for additional warmth to cover the winter months. The coat has generous velcro straps and can be machined washed on a warm wool cycle. Available in sizes 8" to 26"....
(more)
Last few!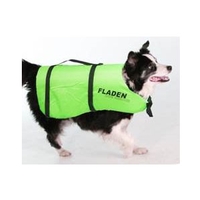 Save £14
Fladen Dog Flotation Vest. Keep your dog safe on or near water with this flotation vest. Provides buoyancy around the dog's torso and chest to help keep them afloat and keeping their head above water whilst allowing them the movement to paddle and breathe easily....
(more)
Save £2
Jarvis Walker Water Woofer Dog Flotation Device. A dog life jacket, a Woofer Dog Flotation Device is a must for any water going Aussie dog owner. Strap on a Woofer Dog Flotation Device for dog safety on the water. Just because it's mandatory in some places for humans to wear water safety gear, that doesn't mean dogs need to be left out. Gearing up dogs with dog life jackets allows them to safely enjoy a day of sun and spray and keeps them safer when you are out boating or kayaking....
(more)