Dog Transport Boxes, Dog Transit Boxes
Your dog means a lot to you, so it is important to keep it safe and comfortable at all times, especially on the road. A good Dog Transport Box is vital for this.
Uttings selection of Dog Transit Boxes from Kurgo and Seeland will ensure you and your dog are kept safe during transit, and keep your dog comfortable on your journey.
For quality Dog Transport Boxes, buy online at Uttings today.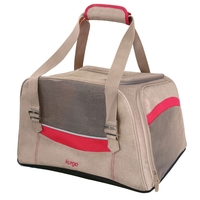 Save £34
Kurgo Metro Carrier. When your dog is your 24/7 companion, you need to make sure they're traveling comfortably. Our Metro Dog Carrier is stylish, sturdy, and has all the little touches to make your dog feel at home. It's perfect for your commute, a drive to the park, or even as an airline carry-on....
(more)