Bottle Packs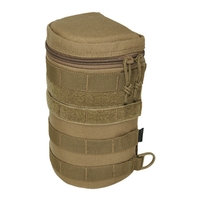 Hazard 4 Jelly Roll - Padded Molle Lens/Bottle Case. Carry your vulnerable lenses and similarly sized optics into harsh environments with confidence on any modular-webbing vest, bags, etc....
(more)
RRP

£32.95
£26.99
Out of stock - Email me
Hazard 4 Flip-Pouch - Bottle/Magazine Pouch. A classic size/format flapped pouch initially developed for carrying assault-rifle magazines and water-bottles, ours adds a fast-access but secure draw-string gusset, and accordean front- pocket so it can do more....
(more)