Pike Reels
Available in #8/9, #10-12 This is a reel to perfectly accommodate their Predator rods.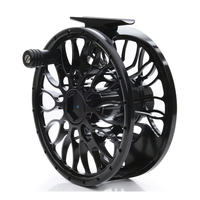 New
Vision XO Predator Fly Reel. This is a reel to perfectly accommodate our Predator rods. The reel is the same trusty XO, just with different makeup. XO reel's stunning look fused with XLB reel's bombproof & powerful brake. The brake mechanism has been used for over 20 years with countless huge fish under its belt and now it's mounted on this sturdy but beautiful reel family. On these reels, this proven brake mechanism is better sealed than in its predecessors....
(more)
Vision XLV Mama Pike Reel - #8/9. The #8/9 Mama is designed to complement the look and styling of our Big Mama and Grand Daddy range of pike rods....
(more)
Vision Deep Pike Reel - #9/10. One of the most popular reels in the UK today, they have a deep arbour giving plenty of capacity for fly line and backing. They have a very reliable and smooth disc brake with easy and accurate adjustment. They are extremely strong but still light in weight, thanks to the latest technology in die cast techniques and materials. They're non-reflecting matt finish and reliable, XLA style spools quick release, are something not often found at this price level....
(more)