Bedchairs & Chairs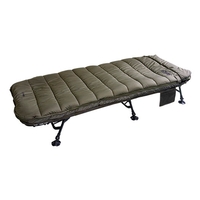 Sonik SK-Tek Sleep System. The new SK-TEK Sleep systems are warmer lighter and more compact than ever before. They feature our revolutionary Stance™ frame design. This new frame layout allows us to move the 2 outer legs into their optimum position to provide extra stability and support across the entire length of the bed. To increase the warmth of our sleep systems we have developed a new Xpanda™ attachment system which allows the sleeping bag insulation to form to your body whilst keeping all t...
(more)
RRP

£219.99
£199.99
Out of stock - Email me
Sonik SK-Tek Armchair. The SK-TEK Armchair is lightweight compact and comfortable. Decked out in the smart new SK-TEK camo pattern trim with padded fleece centre and extra wide padded head cushion. The medium height back offers the perfect balance between comfort and portability....
(more)
RRP

£59.99
£49.99
Out of stock - Email me
Sonik SK-Tek Recliner Armchair. The SK-TEK Recliner Armchair is the ultimate in bankside luxury. Fully reclining with 8-positions, just lift up the arms recline and lock into place. The high seating position and seat back offer plenty of support and with all four legs having extendable locking feet the chair is stable on any terrain....
(more)
RRP

£79.99
£69.99
Out of stock - Email me