Bite Alarms
The new state-of-the-art SKS bite alarms from Sonik are compact, lightweight and packed with all the latest technology to provide the important features the modern carp angler requires. Using normal AAA 1.5V batteries, the sleek and compact shape is 100% waterproof and benefits from a matt black soft tough paint for understated good looks....
(more)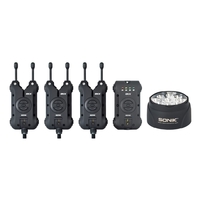 The Sonik SKX takes bite alarm performance to a new level. With twin bright 5mm multi-colour LEDs you can choose your preferred colour combination. The intelligent mute function allows you to quickly, conveniently and silently adjust indicators or line tightness and will automatically re-arm the alarm after 30 seconds. The intuitive control system is quick and simple to operate and the 3+1 set comes complete with protective alarm covers and removable snag ears. Fully weatherproof design and prot...
(more)
RRP

£229.99
£174.99
Out of stock - Email me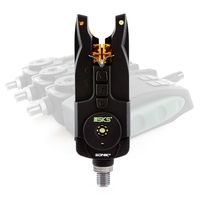 The SKS Alarm is now available individually in Orange. Perfect addition if you need to create a 4+1 set or can equally be used on its own....
(more)