Wildlife Watching Photography
Wildlife Watching Tripod Leg Sleeves. Set of three leg sleeves (for tripods without cross supports). Ideal for camouflaging tripod legs from top to bottom. Length 1.5m....
(more)
Wildlife Watching Cover for Tripod Mount. For tripods with pan & tilt or ball head. Draw string top and pocket for cable release etc. 16cm dia. 33cm long. weight 70g. Breaks up the shape, colour and straight lines of the tripod....
(more)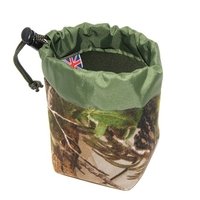 Wildlife Watching Neoprene Draw Cord Bag. Carry, protect and store. We have designed these padded neoprene bags for GoPro cameras but are ideal for other bits of kit that need protection. The draw cord bag is quick and easy to use, perfect for carrying out in the field and storing the camera back at base....
(more)