Multi-Tools
10 Tools! UK EDC (Everyday Legal Carry)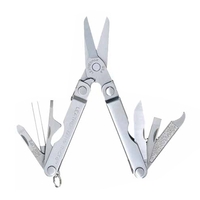 Scissors instead of pliers in the smallest Leatherman® ever! That's just the start of what makes the Micra so great. Whether price, size or weight is the primary concern, the Micra supplies an incredible level of usefulness, including personal care features like tweezers and a nail file. Add a knife, three screwdrivers and more to the strongest, most useful scissors found on any multi-tool or pocket knife, and you've got a winning combination anyone would be glad to have in a purse, on a key cha...
(more)
At a mere five ounces, the full-size Leatherman Skeletool has a stainless steel blade, pliers, bit driver, removable pocket clip and carabiner/bottle opener....
(more)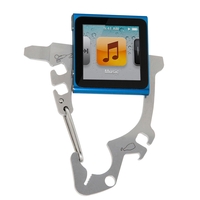 Save £7
Perfect for clipping an Apple iPod and ear buds to, this Rime Leatherman snowboard tool is great for a quick tune-up on the hill, or on the road. We teamed up with the guys from Signal Snowboards to design this new line of tools for the mountain and life in general. They're small enough to clip onto your pants, or pack and handy enough plenty of quick fixes....
(more)