Action Cameras
Save £90
Xcel XCEL-HD Action Camera - Hunting Edition. Capture full HD 1080p footage of your hunt with the new Xcel XCEL HD Hunting Edtion compact action camera. Perfect for mounting to your bow, scope or forehead allowing you to replay, enjoy and share every moment of your hunt with wide angle video. By SpyPoint....
(more)

(1)
RRP

£189.95
£99.00
In stock
Purchase Options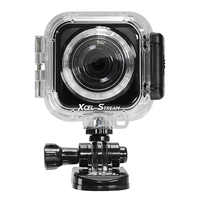 Save £20
SpyPoint XceL Stream WiFi Action Camera. The XCEL Stream by Spypoint is a new and innovative action camera that allows you to stream footage straight to a tablet or phone, allowing others to be apart of the action. Featuring Super HD Video with sound, a built in 2" viewing screen, a wide angle lens and 3 MP photos....
(more)
Ultra high-resolution video capture 4k @ 15fps and 2.7k @30fps. Includes LCD Touchscreen
Save £190
Veho Muvi K-Series K-2 Pro 4K Action Camera. Capture 4k ultra high-resolution videos and shoot 12MP photos with the Muvi K-Series K-2 Pro Wi-Fi handsfree camera from Veho. The Muvi K-2 Pro is the latest camera from the Muvi K-Series range and features the new super powerful XA-9 Hercules chipset, improving the performance of the Muvi K-2 Pro compared to its predecessor the XA-7 Achilles used on the previous K-2 models....
(more)
RRP

£279.95
£89.00
Out of stock