Dog Travel Equipment
Dog Travel Equipment. Dogs do not always make great travellers, so making their journey as comfortable as possible keeps them safe and happy in your vehicle.
Uttings stock a large selection of Dog Travel Equipment to give your dog the best possible journey whatever the trip. A variety of products from Kurgo and Ruffwear including dog carriers and travel bowls cover your every dog travel need.
Keep your dog happy on the road, and buy Dog Travel Products from Uttings online today.
Save £29
Bringing a small dog on an errand or on a long trip doesn't have to feel limiting or challenging. Now with Kurgo's Wander Carrier™ it can be easier than ever for the dog and owner....
(more)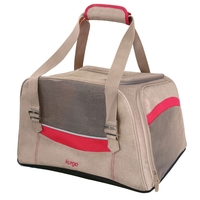 Save £34
Kurgo Metro Carrier. When your dog is your 24/7 companion, you need to make sure they're traveling comfortably. Our Metro Dog Carrier is stylish, sturdy, and has all the little touches to make your dog feel at home. It's perfect for your commute, a drive to the park, or even as an airline carry-on....
(more)
Save £12
Designed with the entire blind community in mind, the Audible Beacon inspires confidence by helping people be seen. This safety light uses audible signals to indicate on/off, low battery, charging, and charge complete. The Audible Beacon is waterproof and rechargeable, using bright LED lights to boost visibility in all directions. A silicone mount attaches easily and securely to guide dog harnesses and canes, and the Quick Clip™ can clip to backpacks, coats, or other gear. With up to 12 hours of...
(more)