Allen Hearing Protection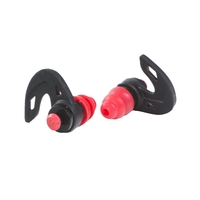 The SHOTWAVE™ Earbud allows you to protect your hearing AND listen to low-dB sounds in a small, comfortable silicone earbud system. SHOTWAVE™ Earbuds are unique due to their analog (non-electronic) proprietary design that allows the user control of sound protection through an external push button system. When you need maximum hearing protection-you push the selector button and an audible/ tactile click is heard/ felt. When you need less protection (i.e. hear conversations)-you push the selecto...
(more)
The Axion Electronic Lo-Profile Shooting Muff has a Noise Reduction Rating (NRR) of 25dB and meets ANSI S3.19 and CE EN352 requirements. This muff features dynamic level sound compression, quad microphone stereo sound, 1.5 millisecond attack time, independent volume control, and increased hearing enhancement. Memory foam padded ear cups and a soft padded headband with an adjustable yoke will keep you comfortable. Requires 2 AAA batteries (not included)....
(more)
The eSHOTWAVE Bluetooth Earmuff can connect to your phone via Bluetooth for audio. It also features an integrated, internal microphone so you can take phone calls or transmit voice commands to your phone all while having your hearing protected. If your phone doesn't have Bluetooth capability, we have included an Auxiliary port for connecting to your digital audio devices. AM/FM radio with antenna is also built into this earmuff. Operates on 3 AAA Batteries with a 42-hour continuous run time. (He...
(more)