Vango Rucksacks & Luggage
Save £16
Vango Explorer II 65 Backpack. The Explorer II Rucksack is great for those adventurers heading out for hiking and trekking on overnight expeditions, recommended by the Scouts Association. This pack is perfect for first time Exploration thanks to the easy to use Size Tolerant back system and ergonomic shaped hip belt giving you a comfortable fit all day....
(more)
RRP

£55.00
£39.00
Out of stock
Save £21
Vango Contour 50+10S Backpack. Designed for backpackers and explorers heading out on multi night expeditions, the Contour 50+10s rucksack offers exceptional performance and fit. Recommended by DofE and Scouts, because of its brilliantly designed Quick Adjust back system, this rucksack allows the user customise for a perfect fit on wide range of back lengths....
(more)
RRP

£70.00
£49.00
Out of stock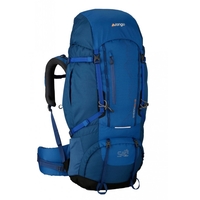 Save £26
Vango Sherpa 60+10 Backpack. The Sherpa is a firm Vango favourite. The Sherpa is a firm Vango favourite. Sherpa is fully equipped with the Self Adjust back system, durable components and clever features giving you the edge when it comes to efficient load control and performance. Sherpa is an all round rucksack appealing to DofE participants, those on gap years and multi-day treks....
(more)