Guideline Footwear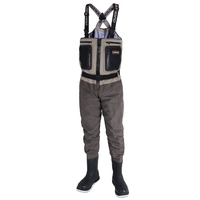 Save £271
Guideline Alta Sonic Bootfoot Waders....
(more)
Save £150
Guideline Diver Sonic Breathable Waist Waders - Bootfoot Sole. Constructed from top quality materials and utilising advanced Ultra Sonic welding technology to seal the seams, the Guideline's Diver Sonic breathable waist waders deliver a level of durability and performance that is tough to beat....
(more)
(1)
RRP

£279.99
£129.00
Check stock
Purchase Options
Laxa 2.0 waders have the most important features, while still offering best possible value for the money. Durable 4-layer nylon fabric, PFOA-free surface treatment and Sidewinder™ design....
(more)
Experience TIZIP is now updated to take advantage of "no stitch" Ultra Sonic Welding technology. It has also been equipped with a double belt loop at the back to better fit the height you want.
Guideline Experience Sonic Tizip Waders. If you want a lighter wader made of highest quality fabric and front zip opening, the Experience Zip Wader is for you. These waders are made with one large outside pocket and one internal pocket. Both equipped with water resistant zippers to make them as waterproof as possible.All around the upper it is a hole webbing where you can attach whatever you like, anywhere. At the front you have a movable and removable retractor. This wader is perfect if you're...
(more)
The new generation of their premium waders has undergone a total makeover.
Guideline Alta Sonic Tizip Waders. The new generation of Guideline's premium waders has undergone a total makeover. You notice it immediately in the new design-features, but be sure to check out the improved performance in the fabric with even better breathability and water resistance, as well as a lighter total weight. These waders take advantage of "no-stitch", Ultra Sonic welding technology for all major seams. A new cut has made it possible to use two different types of Taslan Nylon fabrics,...
(more)