SOG Camping & Trekking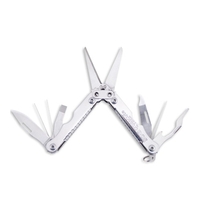 The CrossCut is a precision instrument for cutting, gripping, personal care and the unexpected. SOG's gear driven Compound Leverage allows for big-sized cutting power to be truly miniaturized. Open the handles and these micro machines are ready to work for you....
(more)
RRP

£22.99
£16.99
Temp. Unavailable - Email me
The new SOG Power Assist takes multi-tools to a new level. This is the first in the world to house not just one but two SOG Assisted Technology blades. Start to open the main blades, which are available when the main tool is closed, and S.A.T. takes over to complete opening....
(more)
RRP

£145.99
£99.99
Temp. Unavailable - Email me
A folding shovel can be an indispensable tool in today's constantly changing environment. We know one thing, when you need to move sand, dirt or snow you wish you had that shovel close at hand....
(more)
RRP

£21.99
£14.99
Temp. Unavailable - Email me