Walther Lamps, Torches & Batteries
Walther SDL800 Flashlight (3xAAA). The flagship of the SDL series is a real powerhouse, with features that are useful to police as well as private citizens. It switches at the push of a button from 750 to 75 lumens and back. The Tactical Defense Strobe and UV LED (365 nm wavelength) are always ready at hand....
(more)
Save £1
Walther PL30 Flashlight. The tubular Walther Pro PL30 is the smallest member of the Pocket Light series. It requires only a single AAA battery and thus has a pure cylindrical form. The 12-mm reflector lens and turning focus allow the 90-lumen beam to be adjusted for any purpose. The button at the end controls all the functions....
(more)
Walther PL70 Flashlight. The Multi Battery System (MBS) gives you a choice: Two CR123 batteries, one ICR 18650 lithium-ion battery. Or 3 AAA batteries, either alkaline or NiMH. The result: a strong 935-lumen beam, and an electronic temperature control prevents overheating of the LEDs....
(more)
Walther PL80 Flashlight. The Walther PL80 is powered by four alkaline AAA batteries or rechargeable NiMH-batteries....
(more)
Walther XL1000 Flashlight. This is a flashlight for professionals: tradesmen, hunters, police officers or security experts. With its 42-mm lens the XL1000 emits a powerful 920-lumen beam for long-distance illumination. In spite of its power, this flashlight is only 32 cm long and weighs just over half a kilogram, making it easy to handle. It comes with a ring for attachment on one's belt....
(more)
Walther XL7000r Flashlight. The biggest and heaviest Walther Pro flashlight would make a fine spotlight in a theater, or you could use it when shooting a film....
(more)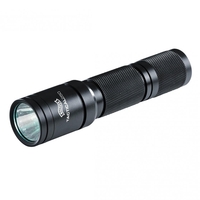 Walther Tactical 250 Flashlight. This highly successful model has now been upgraded to an LED version: longer lamp life, lower power consumption and a 250 lumen beam. Thanks to the new Cree chip technology! The sturdy black aluminum housing not only sits well in the hand, but is also particularly trendy....
(more)
Walther Tactical XT2 Flashlight. A true power pack that's on its way to becoming a bestseller: powerful and inexpensive. The 600 lumens Walther Tactical Xtreme features two brightness levels, a defence strobe effect and a handy, sturdy aluminium housing....
(more)
Walther Pro GL1500r Flashlight (3x Rechargeable ICR18650 Li-Ion). Let there be light: This handy, compact flashlight with its special 4-core XHP chip from Cree generates an amazing 1350 lumens as measured according to the ANSI FL1 standard. The battery compartment can hold three ICR 18650 rechargeable batteries or, thanks to the multi-battery system, six CR123A batteries (which produce 1850 lumens). As with all flashlights in the Pro series, the beam can be dimmed from 100 to 40% or as little as...
(more)
(1)
£149.99
Order Now - 7-10 Days
Purchase Options
Walther XL8000r Flashlight (2x ICR26650 Li-Ion). The new top model in the Walther Pro XL series (Xtra Large) is identical to the XL7000r only in appearance. Its seven lenses produce 50 percent more light, namely a full 4500 lumens as measured by the ANSI FL1 standard. The output can be reduced to 40 or 10 percent. If the switch is held down for more than half a second, the Tactical Defense Strobe goes into action, keeping even the most determined attacker at bay. Power is supplied by a lithium-i...
(more)
Walther UV5 LED Torch. This is the first flashlight in the Walther Pro series that emits only ultraviolet light (the 5W UV hi-power LED has a wacelength of 395nm). UV light, also called black light, is used for checking the authenticity of bank notes and identification papers, and geocachers use it for detecting invisible marks on caches. Of course the UV5 can be focussed like the other Pro lights, so the UV light reaches also distant areas. The UV5 is supplied with three AAA alkaline batteries,...
(more)
Walther HL31R Headlamp. This focusable LED head lamp with impressive 710 lumens is extremely easy to operate. Same functions like the larger PRO-lights, one-hand focusing, a latching, up to 90° tipping mechanism (practical for setting the HL31r on a table), microcontroller with temperature control and a lot more. The Multi Battery System MBS accepts a wide range of batteries....
(more)