Fishing Jackets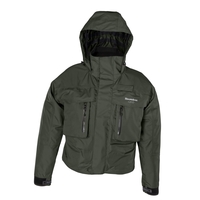 Save £119
Snowbee Geo Wading Jacket. The new Geo Wading Jacket incorporates all the best design features of the previous XS and SFT Wading Jackets, but brings them all together in a new design, with a few added extras!...
(more)
(2)
RRP

£229.00
£110.00
Check stock
Purchase Options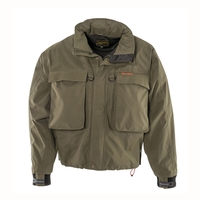 Snowbee New Prestige 2 Breathable Wading Jacket....
(more)
(1)
RRP

£169.00
£139.99
Check stock
Purchase Options
Save £54
The new Snowbee Prestige Breathable 3/4 Field Jacket has simple, 'clean' lines which will appeal to shooters, anglers and all country sportsmen. The ¾ length makes it ideal for use over thigh waders, while the chest and shoulder area is left clear, to appeal to shooters....
(more)
Save £130
Westin 2 Piece Winter Suit. Wind, rain, hail or snow is no longer an issue! The W4 Winter Suit is all you need to stay put when the going gets though. Quality, function and comfort were the main priorities when designing this 2-piece suit. Both Jackets and Pants are packed with all the functions and features demanded by hardcore anglers. Its waterproof, windproof and breathable and with its light and soft comfort design it will keep you warm and dry all day long....
(more)