Manfrotto Optics Bags & Cases
Save £84
Manfrotto Professional Shoulder Bag 30. The Shoulder Bag 30 is a professional shoulder bag, designed for a Pro DSLR with battery grip and 70-200 F/2.8 lens attached, 3 extra lenses, additional camera body, flash, tablet, 11" laptop and accessories. It features the CPS - Camera protection System - and the Exo-tough multi-layered construction to give the maximum protection....
(more)

(1)
RRP

£129.95
£45.00
In stock
Purchase Options
Save £99
Manfrotto Hiker Offroad Backpack - 20L. The new Off road Hiker 20L has been specifically designed for hiking and photography with quick side- access to your camera. Thanks to the Manfrotto Protection System, the removable camera case is highly protective....
(more)
(6)
RRP

£144.95
£45.00
In stock
Purchase Options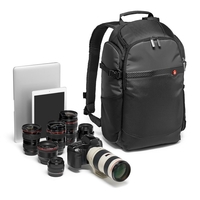 Manfrotto Befree Camera Backpack. Enjoy the new Manfrotto Advanced Befree camera backpack with new sleek design and bigger rear access! This camera backpack is big enough for both your large DSLR kit and personal belongings too. The lower compartment holds a medium level DSLR camera such as Canon 5D Mark IV with a 70/200 mm f/2.8 lens attached and up to 6 additional lenses....
(more)
RRP

£124.95
£99.99
Out of stock - Email me