Sigma Nikon Fit
Free Delivery on Sigma lenses this month
Save £180
Sigma 18-250mm f3.5-6.3 DC Macro OS HSM Lens - Nikon Fit. The addition of the 18-250mm F3.5-6.3 DC Macro OS HSM speaks to Sigma's versatile product lineup with this multipurpose zoom lens that offers Optical Stabilization (OS)* and covers wide angle to telephoto to macro photography....
(more)
Free Delivery on Sigma lenses this month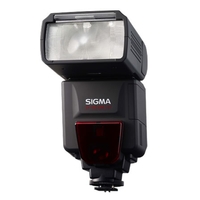 Save £134
Sigma EF 610 DG Super Flash - Nikon Fit. The newest addition to the Sigma line of flashes is the most powerful one yet, now offering a Guide number of 61 which translates into 61/m (200/ft) and designed to work with the latest TTL auto exposure systems of all the most popular digital and film SLR cameras....
(more)