Real Avid
18-in-one shooters multi-tool
Save £9
Every shooter needs the Gun Tool in their gun bag. It combines 18 of the most commonly used tools for rifles and shotguns into one compact, ergonomic frame. Don't get caught with your gun down in the field. The Gun Tool can make the quick fix that can save a hunt or a trip to the range....
(more)
(2)
WAS

£24.99
£15.00
In stock
Purchase Options
18-in-one shooters multi-tool - Ruger Edition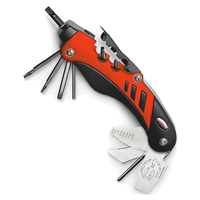 Save £11
Specially made to fit Ruger firearms. Now the owners of Ruger firearms have a multi-tool all their own. Designed by Real Avid and Ruger engineers, this 18-in-one multi-tool includes a special Ruger scope ring blade, and a tapered pin punch that fits Ruger rifles, shotguns and handguns....
(more)
(1)
WAS

£26.99
£15.00
In stock
Purchase Options
Save £10
Everything you ned to professionally install rings and bases, and mount and level your scope. Kit includes a handy 3-way wrench that's easy to hold and leverage torque, plus Torx, Allen, Phillips and flat bits, a bubble level, thread lock and a lens cleaning cloth. Grab the factory insutrctions for mounting your scope, and get to work....
(more)
(1)
WAS

£29.99
£19.00
In stock
Purchase Options
Save £20
The Real Avid Multi-Cutter is packed with power and functionality. it's a single tool that field dresses game, saws through branches when you're clearing out a shooting lane or brushing in a blind, and shears bird bones....
(more)
Save £4
Hands free operation puts the light right where you need it. Ideal for illuminating hard-to-see areas of the chamber, receiver and barrel interior. A bright white LED puts out 15,000 mcd brightness housed in a 5" flex neck that is attached to a machined brass housing....
(more)
(1)
WAS

£11.99
£7.00
In stock
Purchase Options
Save £3
Real Avid Bore Boss 20g. From the barrel of innovation comes the ultra-compact Bore Boss®, the first ever self-storing, easy-feeding, clean-pulling, field-ready, hassle-free, pure-genius bore cleaner. The single piece cable with integrated phosphor bronze brush and braided mop wraps around the unique Flex-Case Handle to keep the system stowed and organized. To use, simply flip, feed, clip, and pull. Throw it in your pack, or put it in your pocket. It's the next best thing to a self-cleaning gun....
(more)