MTC Optics SWAT Prismatic
New
MTC Optics SWAT Prismatic 10x30 ATOM Rifle Scope. MTC's second SWAT Prismatic model – a 10×30 that has earned the nickname 'Atom', due to is diminutive size. Like its (slightly) larger 12×50 sibling, the all-new 10×30 SWAT Prismatic is a little scope featuring some big differences. SWAT stands for Super Wide-Angle Technology, meaning the Atom offers of a much wider field of view than a conventional 10x magnification scope. What's more, it harnesses its highly detailed sight picture courtesy of a...
(more)
RRP

£399.00
£379.00
Out of stock - Email me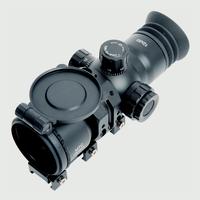 New
MTC Optics SWAT Prismatic 12x50 Rifle Scope. With its short eye relief, the SWAT Prismatic 'sits back' further than any other scope, leaving plenty of mounting rail to allow headache-free attachment of all kinds of Night Vision fittings. Its multi-faceted SCB2 crosshair can also be illuminated at the push of a button, and comes with brightness control to suit all lighting situations. The field of view from its 50mm front lens is three times more than a conventional scope. Put another way: here w...
(more)
(1)
RRP

£511.00
£479.00
In stock
Purchase Options