Lowepro
Lowepro started in a small Colorado garage over 40 years ago. Since then, they've travelled the the world on the backs and shoulders of the best photographers on the planet. They've learned. They've innovated. They've become a leader.

For over 40 years, Lowepro worked to develop and perfect camera carrying systems - maybe to the point of obsession. But they never stopped at just innovating and improving products. Lowepro strongly believe that they owe it to themselves, and their industry, to do whatever they possibly can to protect and save the environment.

Lowepro bags were inspired by helpful advice from you and your peers. They've listened carefully to your suggestions, and we're sure you'll find something that's exactly right for you. Because wherever you go on your next assignment, Lowepro want to be right there with you.
Save £130
RRP

£229.00
£99.00
In stock
Save £90
RRP

£149.00
£59.00
In stock
Save £35
RRP

£120.00
£85.00
In stock
Save £5
RRP

£17.00
£12.00
In stock
Save £5
RRP

£21.00
£16.00
In stock
Save £7
RRP

£25.00
£18.00
In stock
Save £11
RRP

£38.00
£27.00
In stock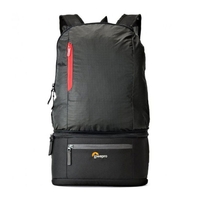 Save £15
RRP

£52.00
£37.00
In stock
Save £15
RRP

£52.00
£37.00
In stock
Save £17
RRP

£61.00
£44.00
In stock
Save £20
RRP

£69.00
£49.00
In stock
Save £23
RRP

£78.00
£55.00
In stock